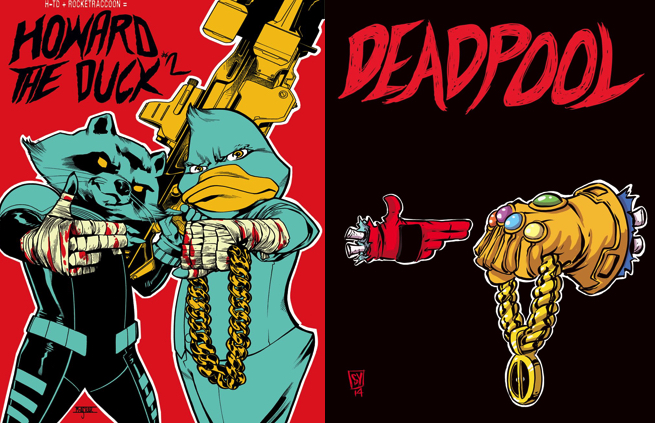 Variante RUN THE JEWELS pentru HOWARD THE DUCK #2 si DEADPOOL #45
Marvel a prezentat prin intermediul Rolling Stone doua variante ale copertilor Deadpool #45 si Howard the Duck #2, ce aduc omagiu duo-ului hip-hop Run the Jewels.
Albumul Run the Jewels 2 lansat pe 24 Octombrie anul trecut prin Mass Appeal Records face valuri in continuare si atrage reactii pozitive, atat de la membrii comunitatii hip-hop cat si din afara breslei. El-P si Killer Mike au reusit sa devina un simbol pentru hip-hop-ul independent, dar digerat pe o scara larga.
Editorul-sef Axel Alonso a venit cu ideea, iar artistii responsabili pentru cele doua coperti sunt Mahmud Asrar (coperta Howard the Duck) si Skottie Young (coperta Deadpool), care potrivit spuselor lui Axel Alonso: "They couldn't say 'yes' [to this assignment] quick enough"
Dupa asa numitul proiect Tag the Jewels derulat anul trecut, unde aproape 50 de crew-uri de graffiti de pe 6 continente (inclusiv in Romania, reprezentata de Sweet Damage Crew) au creat murale cu propriile versiuni ale clasicului logo creat de Nicholas Gazin, te asteptai ca cei doi rapperi sa fie obisnuiti cu tratamentul regal, dar dupa cum declara partea sudica a duo-ului, Killer Mike: "when it came all the way through, I was dancing around the room in my Polo underwear."
Revistele apar in Aprilie si sunt disponibile pentru pre-comanda prin intermediul ErouPeBanda la pretul de 30$ si respectiv, pentru Deadpool, 60$/bucata. Pentru a plasa precomenzi, scrie-ne ori pe Facebook, ori la Office@ErouPeBanda.ro.