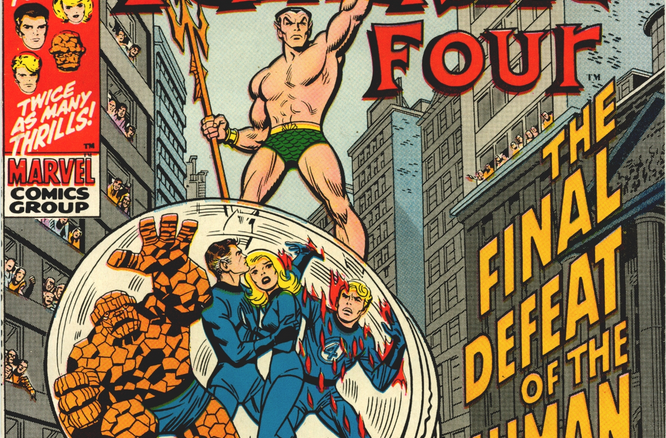 Coperte realizate de John Romita: top 10
Au trecut 84 de ani de la nasterea unuia dintre cei mai importanti desenatori din istoria benzilor desenate. John Romita Sr. s-a nascut in 1930 si este cunoscut mai ales datorita artei aduse de el in seria Spider-Man, incepand cu 1966.
Romita a activat pana la inceputul anilor '60 la DC Comics, ulterior fiind cooptat de concurenta. Intre timp a luat si o pauza, fiind chemat in armata – obligatorie pe acea vreme, dupa cum iti poti imagina…
El a reusit timp de mai multi ani sa ii "dea viata" lui Peter Parker in studentie, sa inchege relatia dintre el si Jane, sa contureze inamicii sai timp de zeci de numere.
Si….cele mai faine coperte realizate de Romita! La Multi Ani!
10. Marvel Age 111
Well…pare distractiv, nu? : )
9. Spider-Man 66
Desi arata…dubios…fata lui Spidey aici, fundalul alb reuseste sa capteze excelent personalitatea lui Mysterio.
8. Captain America 176
Extraordinare umbrele pe fata lui Steve! Uratel…nasul lui Iron Man insa 🙂
7. The Amazing Spider-Man 39
No further comment – figura Green Goblin face "toti banii"!
6. Amazing Spider-Man 75
Ooooh, da! Reflexia, expresivitatea…plus ACEA moarte! Si pe ErouPeBanda.ro, de vanzare! 😉
5. Young Love 50
Anatomia lui Grey, mori de ciuda! Da, este o alegere obscura, din 1965, dar…transmite senzualitate! Fain! : )
4. Spider-Man 100
Este ceva foarte fain in felul in care Spider-Man "sarbatoreste" cele 100 de numere, PESTE prietenii/cunostintele sale!
3. Fantastic Four Annual 8
Este ca un poster de film – extrem de mult detaliu in FIECARE personaj, foarte dramatica si dinamica!
2. Son Of Origins Of Marvel Comics
Pictura, pacat ca nu a publicat mai multe in acest fel!
1. Amazing Spider-Man 50
Una dintre cele mai iubite cover-uri ale unei benzi desenate cu Spider-Man, si in general, indraznesc sa spun. Eu as compara-o cu cea a numarului 75, aceasta din urma fiind o reeditare a numarului 1 din acest top.
Tu care consideri ca sunt cele mai bine realizate/expresive coperti ale lui Romita? Dar in general? Spune-ne in comentarii! : )