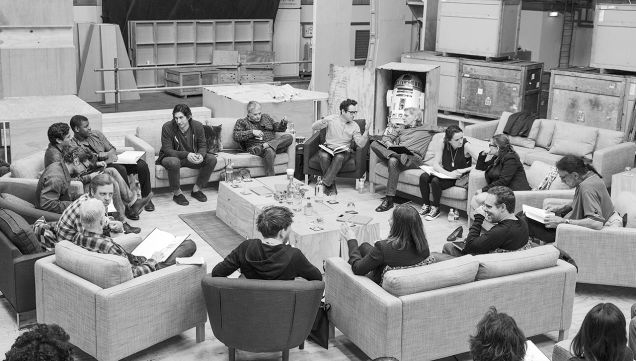 Distributia Star Wars VII: cine sunt actorii alesi de J.J. Abrams
Distributia Star Wars VII a fost facuta, in final, publica, pe site-ul oficial al Star Wars.  Deci, dupa o lunga asteptare, avem in sfarsit lista actorilor care vor juca in viitorul film din saga Star Wars.
In caz ca nici voua nu vi se incarca (cred ca este macel pe el la ora aceasta : )) ), mai jos, lista completa:
Actorii John Boyega, Daisy Ridley, Adam Driver ( Inside Llewyn Davis), Oscar Isaac (Drive, Robin Hood), Andy Serkis (Prestige, Rise of the Planet of the Apes), Domhnall Gleeson (True Grit) si Max von Sydow (Exorcistul, Minority Report) se vor alatura celor din saga originara – Harrison Ford, Carrie Fisher, Mark Hamill, Anthony Daniels (C-3PO), Peter Mayhew (Chewbacca) si Kenny Baker (R2-D2), in noul film.
Cum vi se pare cast-ul? Personal, am mai multe semne de intrebare/exclamare. In primul rand, multi dintre tinerii actori nu s-au afirmat (suficient) inca, sper ca acesta sa fie insa un factor motivational si sa joace excelent! In al doilea rand, mi-e teama sa nu puna PREA mult accent pe vechea garda – ei ar trebui sa fie mai mult pe fundal, mentori, nu sa intre in the spotlight. In al treilea rand…UNDE sunt noile personaje de sex feminin?!? Doar UNA? C'mon!
Sa tinem pumnii regizorului J.J. Abrams si sa-l rugam sa o lase mai moale cu lens flare-urile… : )